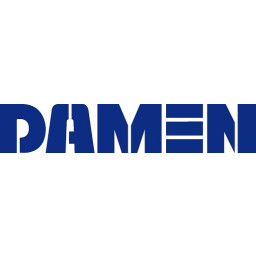 Damen Naval
Graduation Project Advanced Design Tool Developmen...
Damen Naval offers you a career that is challenging, exciting and fun in equal measure. The Naval division of the family-owned Damen Shipyards Group is established in Vlissingen and in Schiedam. It is a company with more than 1.000 professionals, and a rich tradition of naval shipbuilding, its original roots stem back more than 150 years. For more than 50 years Damen Naval has been the dedicated shipbuilder for the Royal Netherlands Navy. Based on decades of accumulated experience, Damen Naval offers navies worldwide a broad range of defence and security vessels, ranging from 7m to more than 200m in length. Damen Naval is the only supplier of naval vessels in the Netherlands. Damen Naval has delivered more than 420 vessels to satisfied customers all over the world and have has earned a reputation for excellence along the way. While taking pride in heritage, Damen Naval is also looking towards the future. Are you ready for duty?
Damen Naval boasts a state-of-the-art Engineering organisation, which is responsible for basic and detailed engineering of ships consigned to Damen Naval for production at the Vlissingen yard and to an increasing extent for production abroad. 
Damen Naval is continuously improving its designing process and corresponding tools. xtensive experience from vessel production and operation by customers is used in feedback for new designs and tools. Advanced Design Tool development therefore encompasses historical as-built data as well as prediction methods for creating and improving design tools. Possible design tools are:
(Life cycle) cost estimates, the trade-off of using different systems in the design has large impact on both the capital investment as well as the operational costs. Early detailed predictions of these costs are becoming increasingly important.
Weight estimations on different levels of detail, estimating weight early in the design process requires insight in the relevant systems, parameters that influence it.
Propulsions trade –offs, taking into account requirements such as noise, vibration, environment, hybrid configurations, etc.
As a graduate at Damen Naval Products and Proposals, you will face several aspects in the field of design tools. It is not only theory or practice, but the combination of theory with practice that leads to the best results. Design tools are used in early phases of projects but form the basis for the further development of the projects. A graduate in this field is responsible for taking into account several departments and will be involved in high speed developments while also considering the requirements for of engineering the output of design tools.
Send us your motivation and favourite subject as well as your CV directly via our career website!
The perfect candidate for the Graduation Project Advanced Design Tool Development has the following characteristics: 
Bachelor or Master student Applied Physics or Maritime Technology.
Top class student who is passionate about ships and or shipbuilding.
Familiar with ship design and able to balance level of detail and applicability of tools.
Capable of identifying and communicating with multiple stakeholders.
Independent, analytical and proactive.
Fluent in English both verbal and in writing.
Permanent multiyear EU citizenship combined with permanent EU work visa are all requirements of the recruitment process for viable candidates, given the military nature of clients and projects.
At Damen Naval, we highly value our employees, and we will support your professional and personal development. To that end, we invest in all our employees by offering:
A technology and innovation focused, dynamic, international work environment.
Ongoing learning and development opportunities within a diverse and rewarding work environment.
An active social environment in terms of business culture, events & sports.
Are you interested in the position of Graduation Project Advanced Design Tool Development, and do you recognize yourself in the job description? Please respond directly via the Damen Career Portal.

For more information about the vacancy, Damen Naval or the application process, please visit the Damen Naval website, the Damen Career Portal or call the Corporate Recruitment department on +31 (0)118- 485 000.
Please note that only candidates with a permanent EU citizenship together with a valid permanent EU work visa can be considered as viable candidates. A pre-employment and security screening and investigation form part of the recruitment process.
Damen Naval does not approve commercial, contractor and/or agency or other commercial use of this advertisement. Proposing candidates without invitation is not appreciated and they will not be considered. #LI-DNS1